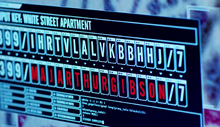 Following the show's mystery, all of the episodes' titles are an anagram masterfully thought to decipher a final hidden message.
Anagrams are usually seen through the show and they're often used to decode hints pointing a case hidden on Jane's tattoos.
Anagrams Per Season
All decoded anagrams point to a hidden message that can be read as an instruction manual.
Hidden Message: Who is Jane Doe? Taylor Shaw, the missing girl. Or maybe not. The past will cloud our eyes. Trust no one, suspect everyone, lift the curtain and unveil the mastermind.

In case of emergency, follow these instructions:
Stay where you are.
Find a secure line to contact your handler.
Find what you need in almost the last place you look.
To begin the sequence, focus on the time, then wait for the address to your new safehouse. The final order will be revealed when it's filed away.
When the mid-season (10th) episode "Nor I Nigel, AKA Leg in Iron" aired, the titles became palindromes, meaning that they could be read the same backwards as forwards. The letters in the center of each episode title, spell out the hidden message "Kurt Weller SOS".
In this season, while the titles are no longer palindromes, in a similar way, all contain a letter that is surrounded forward and reverse by two of the same letters. The letter that's surrounded, when isolated and catenated for each episode, spells out "One of Us Will Give Our Life".
In this season, according to a discussion started on Reddit, the titles are an homage to some TV series. The first letters of each TV series probably spell out the hidden message "Is This The Death of The FBI?".
Anagrams Per Episode
Season 2
No. Ep
Title
Description
Anagram
2.17
Solos
On her attempt to get the attention of the team and alert them about their whereabouts to escape from their kidnappers, Jane used key words and an apparently random message with an anagram hidden in order to save a couple of kids taken hostage.